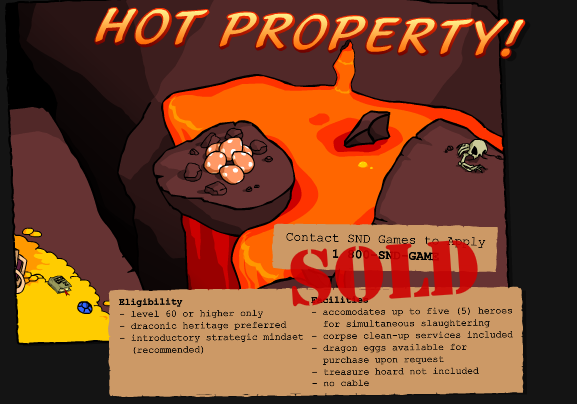 Above are two concept-art pictures for the Fortuitous Cave area/Demo Level, and one screenshot of something on the concept artist's blog. From this, it seems we can conclude some interesting stuff for the Treasure Lord:
It's level-60-or-higher, whatever that means.
It is also a dragon - possibly (likely?) the parent of all the Whelps flying about, since one of the HTD posts referred to the Whelps as "dragon whelps".
The boss level will accommodate five heroes.
Dragon eggs will be part of the level, though possibly only as background decoration. (Or as an avenue for introducing Pets?)
Bring-your-own-treasure-hoard, apparently - not a problem for a Treasure Lord, of course.
"Introductory strategic mindset" implies that the Treasure Lord, as a boss, will have more complex AI than the various Whelps flying about.
"Simultaneous slaughtering" may imply that the Treasure Lord has Area-Of-Effect attacks.
A question: Is the Treasure Lord "Clyde"?
More seriously, we may note the following "notes" from the sidebar of KXN@HTD.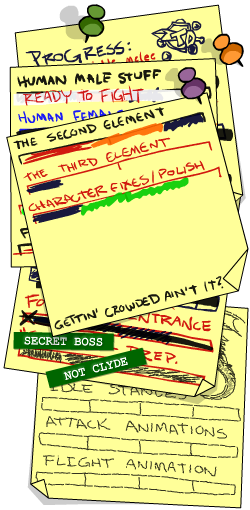 Hmm? What are those last two notes, again? "Fo[...] Entrance" - while "Fortuitous Cave Entrance" wouldn't actually fit in that space, that could be artistic license. There's also a "Secret Boss (Not Clyde) Prep" bar on that note - ah, that poor sap Clyde will always be waiting his turn, won't he?
Below that, however, we can clearly see "Idle Stances", "Attack Animation", and "Flight Animation" beneath a sketch of a dragon. Hmm. Treasure Lord, anyone?
Ad blocker interference detected!
Wikia is a free-to-use site that makes money from advertising. We have a modified experience for viewers using ad blockers

Wikia is not accessible if you've made further modifications. Remove the custom ad blocker rule(s) and the page will load as expected.